If you haven't heard anything about how to acquire a custom Google Plus Vanity URL for your personal profile or business page then this is your lucky day, because we've got you covered.
First of all, you're going to need an account that's been on Google+ for more than 30 days. If you're just creating your Google+ account today, this isn't going to work right away. You should still follow the instructions because there are lots of other reasons why setting up your Google+ authorship is beneficial.
4 Critical Steps for Getting a Google+ Vanity URL Are as Follows:
• You must have a profile photo
• You must have at least 10 followers
• Your account must be at least 30 days old
• Your account must be linked to a website (This is key)
You  need to be using a self-hosted version of WordPress. Technically, you could apply the concepts in this post to any website, but you'll have to add the rel=author tag differently. In any event, let's dive in.
The first thing you're going to need to do is install WordPress SEO by Yoast. The process for doing this is pretty simple. Just navigate to the 'Add New' plugin page and search for "WordPress SEO." It will probably be the first one that comes up. Once you've done that, head over to your user profile page and add your Google+ profile URL in the correct field.
Add Google Plus Profile URL in WordPress
Setup Your Google Authorship
The process is very easy when you use the Yoast plugin ,that's why we highly recommend using it.  For the next step, go to the WordPress SEO Social settings tab and under the Google+ tab select your profile as the "Author for homepage", as shown below.
This is assuming that you are the main author/owner of the website. You should only do this for a website that you control or own.
If you are managing a website for your business or you have your own brand or something, you will need to include the rel=publisher tag to your home page. Add the URL of your Google Plus business page to the "Google Publisher Page" field. In case you're wondering what this is for, this is how you will receive an email about your business' vanity URL.
Your Google Plus Vanity URL IS Almost Ready!
There's one more thing you need to do and that is to establish a link between your Google Plus profile and your website. Start with logging in to your Google Plus profile and go the "About" section.  You will need to Add your websites complete url as a site's contributor. Don't worry, it may sound complicated but really it's not. All you need to do is scroll down to the "Links" section at the bottom of the page and hit Edit. (See images below)
A Popup Will Display Where You Can Edit Your Google Plus Profile Links
You will find a section called "Contributor to" inside that popup and that's where you will want to copy and paste the complete URL of your website.  Be sure to add a relevant title, like the name of your company or website, and save your link. Voila! You're all set!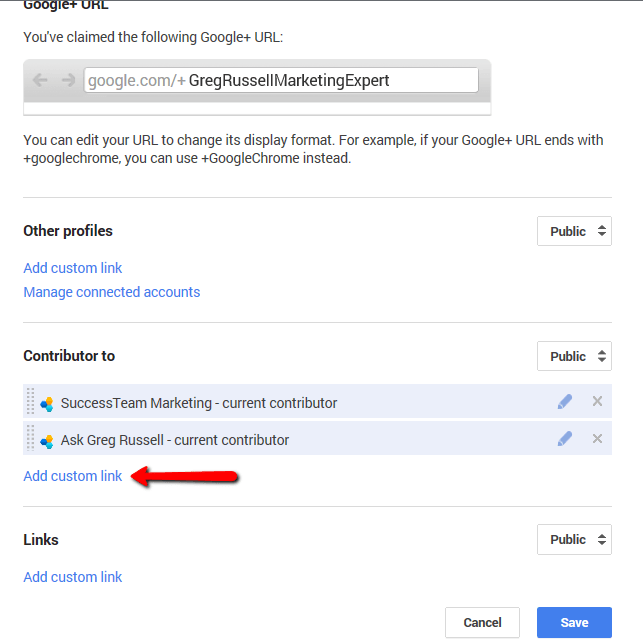 Good job! Soon you will have your own Google+ Vanity URL!
Now that everything's set, just want to let you know that it's also easy to screw things up along the way. Make sure you use the Google Structured Data Testing Tool to see if everything is working properly. You will know it is if you see the green notification that says your "Authorship is working for your webpage."
But if you see red and error notice, then go back through this post and be sure you're skipping any of the step somewhere. And, remember to clear your web page cache! Okay?
Then You Wait.
You may not receive a Google Plus Vanity URL notification email instantly, but it won't take long supposing you did all the steps from this post correctly. Just sit back, relax and check once in a while the email inbox linked to your Google Plus profile. Then you will be ranking together with the rest of the cool Google Plus elite within one or two days.  If you don't get an email  do don't worry just keep an eye on your Google Plus profile.  When you log-in to Google Plus you may notice bar at the top of your profile that indicates your are eligible for a custom vanity url.  Just click the link and follow the simple instructions to choose your vanity url.
Note:  I did notice in the terms of service, they did say they may charge a fee.  In my opinion I don't think they ever will but you should be aware of what is says…
You may also want to share this post if you found this useful and if you think your friends can also benefit from it. And why don't you join us on Google Plus to access more valuable information. If you need help with setting this up or if you have questions or suggestions, please let us know by leaving a comment below.